nheriting 50 years into the future
-
from jie zhang Economic Daily News
Tailift Group has been founded for 50 years and has worked hand in hand with the industry to show the growth process of innovation, reform and development
jie 
zhang 
Economic Daily News
Tailift Group has been deeply involved in the field of sheet metal equipment for more than 30 years. At the TIMTOS exhibition this year (D028, Hall 1 of the World Trade Center), it not only gathered the classic machine tools of various business departments under the group, including the most well-known Tailifu stacker and new development. The Tailifu automatic warehousing, and the best-selling classic laser cutting machine TL3015 and other equipment also showcase the 50 years since Tailifu was established, it has been hand in hand with the industry, and the process of continuous innovation, reform and growth.。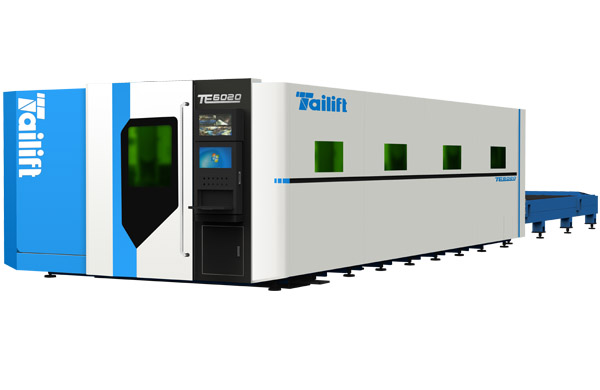 TE12025 laser cutting machine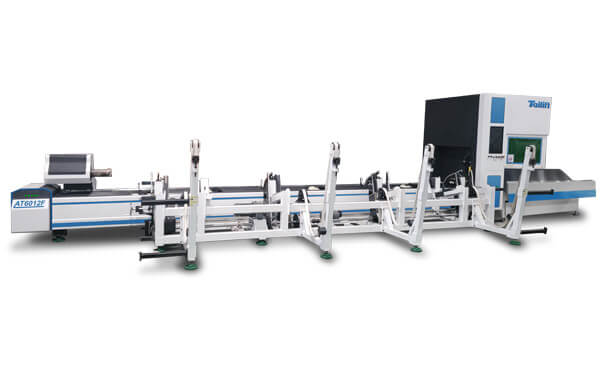 AT6012F Laser Tube Cutting Machine
At this year's TIMTOS Taipei International Machine Tool Show, brand new products were launched, such as floor-rail gantry laser cutting machines and high-power cutting machines above 10,000 watts. For example, floor-rail gantry laser cutting machines are equipped with six The width of the workbench is almost 10 meters wide and the length of the workbench can be extended almost infinitely. It adopts the double-drive structure of the gantry and runs smoothly. It is equipped with an automatic proportional valve for cutting air pressure to make the operation more convenient. , high life and other characteristics.
While all brands in the market have launched high-power fiber laser cutting machines with a power level of more than 10,000 watts, Tailifu also launched oscillators equipped with 12,000 watts to 60,000 watts, which can handle high-thickness sheet metal, H-beam, Processing of large and thick workpieces such as construction, shipbuilding, and aviation.
Lin Eric CEO of Tailifu Group, said that laser sheet metal cutting technology is currently one of the most widely used technologies in the global industrial manufacturing industry. It can quickly and accurately cut and process sheet metal materials, and is widely used in automobiles, aviation, etc. , construction and many other industries, however, the laser sheet metal cutting market is also facing some challenges.
With the intensification of market competition, consumers have higher and higher requirements for cutting accuracy, cutting speed and cutting cost. In order to meet the needs of customers, laser sheet metal cutting technology needs to be continuously innovated and upgraded to improve production efficiency and reduce production costs.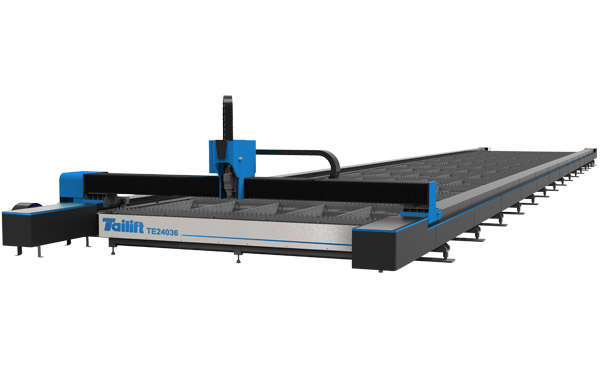 Tailift TE24036 Laser cutting machine
Secondly, environmental protection and energy issues have also become the focus of the market. With the increasingly severe global climate change, people are paying more and more attention to environmental protection and energy issues. Laser sheet metal cutting technology also needs to pay more attention to energy conservation. and environmental protection.
Lin Eric CEO of Tailifu Group, said that with the development of emerging technologies such as artificial intelligence, big data, and the Internet of Things, the global industrial manufacturing industry is facing a huge transformation period. In this era, the market demand for machine tools is increasing. Changes are taking place, and more and more companies are paying attention to digital transformation to improve productivity and efficiency. As the concept of Industry 4.0 is becoming popular, this year coincides with the 50th anniversary of the Group's founding. Tailifu Group will actively promote the intelligence, automation and digitalization of the manufacturing industry, and strive to develop more intelligent and efficient machine tool products , to provide customers with better solutions.